Informazioni su Zoho Desk
Zoho Desk is a cloud-based help desk solution from Zoho Corporation, catering to businesses of all sizes. Key features include management of customer support tickets, a customer support portal, contract management and report creation. Zoho Desk collates interactions from various media (email, phone, chat, social media, a self-service portal, forums and forms) and presents them in one place. Tasks such as ticket assignment, service escalations, notification rules and time-based actions can be automated by setting workflow rules. The solution provides customizable and scheduled reports, happiness ratings and a graphical dashboard for analyzing customer satisfaction. Integration with Zoho customer relationship management (CRM) facilitates feeding of customer information into tickets logged in Zoho Desk, which enables service agents to know more about the customers. The solution also enables users to make custom changes, such as renaming tabs, adding new departments, customizing email templates, defining business hours and adding of help folders. Zoho Desk can also be integrated with clients' in-house systems.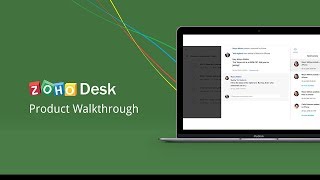 Zoho Desk dispone di un piano gratuito e offre una versione di prova gratuita. La versione a pagamento di Zoho Desk è disponibile a partire da 14,00 USD/mese.
Prezzo di partenza:
14,00 USD/mese
Dettagli sul prezzo:
● Free - up to 3 users, forever! ● Standard - $14/agent/month ● Professional - $23/agent/month ● Enterprise - $40/agent/month
Valutazione della caratteristica
Settore: Produzione di apparecchi elettrici/elettronici
Dimensioni dell'azienda: 2-10 dipendenti
Uso

Ogni settimana

per

Prova gratuita

Fonte della recensione
Rapporto qualità-prezzo
0
---
Data della recensione: 8/7/2020
Buon sistema a prima vista
Vantaggi
Sistema integrato con Zoho CRM già in uso presso l'Azienda
Inconvenienti
Abbiamo ancora testato poco il sistema.
Settore: Servizi e tecnologie dell'informazione
Dimensioni dell'azienda: 2-10 dipendenti
Uso

Ogni giorno

per

Più di 1 anno

Fonte della recensione
Rapporto qualità-prezzo
5
---
Data della recensione: 23/7/2019
Great on its own, OUTSTANDING when synced with Zoho CRM
Vantaggi
The integration with Zoho CRM is game-changing. It's so simple to set up and gives our Sales + Customer Service teams complete transparency into what the other is doing.
It's really intuitive — of all the Zoho apps, Desk is the best for ease-of-use and straightforward UI. I like it even more than Zendesk.
Powerful automation features.
Love the customer portal + knowledge base, we use it every day.
Nice little features like snippets or copy-pasting knowledge base articles mean that ticket response is a breeze.
Inconvenienti
Sometimes some of the default email templates can be a little bit funky, but that was an easy fix.
Settore: Gestione di organizzazioni non profit
Dimensioni dell'azienda: 51-200 dipendenti
Uso

Ogni giorno

per

Più di 1 anno

Fonte della recensione
Rapporto qualità-prezzo
5
---
Data della recensione: 14/7/2020
One of the best investments for our organization
Great - and their customer service is great as well.
Vantaggi
We got this software after using another vendor for about two years. During that time we learned what our needs were and had Zoho Desk on our shortlist. The criteria that we used was:
+ Easily integrate into the Knowledge Base (KB)
+ KB easily integrates into tickets
+ Tickets can be handled by multiple departments and permissions can be restricted to those departments
+ Single Sign On (SSO) integration for customers
+ A robust API
+ ASAP(TM?) integration that we can dump onto our website, which allows us to point directly to a particular page in the KB
+ A good mobile app (I personally use it on the iPhone)
+ Customizable reporting
~ A semi-workaround to integrate with Github (via Zoho Project)
We're looking forward to Guided Conversations that's in development right now
We look forward to additional releases
Inconvenienti
It can sometimes get too bloated on your browser because it has a lot of data under the hood, and search can be finicky at times - but it's quite manageable.
The above would not impact me choosing this platform again.
Settore: Servizi finanziari
Dimensioni dell'azienda: 11-50 dipendenti
Uso

Ogni giorno

per

Più di 2 anni

Fonte della recensione
Rapporto qualità-prezzo
4
---
Data della recensione: 22/3/2021
Mamanging customer growth and issues with Zoho Desk.
Solving customer issues and recording solutions so they can be searched and shared on the Kb if the problem occurs again.
Vantaggi
The ticketing interface and merging of tickets
Inconvenienti
The SAML setup is not as easy to integrate as expected.
Settore: Computer e sicurezza della rete
Dimensioni dell'azienda: Lavoratore autonomo
Uso

Ogni giorno

per

1-5 mesi

Fonte della recensione
Rapporto qualità-prezzo
1
---
Data della recensione: 24/8/2018
Everything is in BETA, after you are sold into a purchase...
I realized I need a product that will fully integrate with my Google contacts and calendar, be able to track time spent on site or on a remote support session and be able to do this without switching and spending 5 minutes trying to get all of the information together for an invoice from: contacts; reentering the same job in Invoices instead of it linking to Desk, and move on to the next client.
Vantaggi
It was pretty easy to setup, they did have issues on their end with the custom domain pointing, but were willing to help out.
HTTPS had to be requested and is not a part of the package unless you call up and request it.
Inconvenienti
I purchased a package from Zoho – Desk and Invoicing – so I can bill clients for time spent on a service call. Calls can be a remote support session or onsite.

After trying out their product and setting everything up with just Desk, their sales pitch led me to believe that their Invoicing product would be needed to integrate with Desk in order to bill clients directly.

The company then sent me an invoice to pay for an annual subscription for Desk and Invoice. I was told multiple times that I could use it on my phone and on the web. It would led me open a timesheet and connect it to the Desk ticket. Nope. Not on the phone though I was told otherwise.

So far, everything does not work as advertised.

The support reps keep telling me that their integrations are in BETA.

BETA was never mentioned during any of the calls or email until it did NOT work as advertised. I even have screen shots of the word BETA on the screens.

I would not recommend this product and would put up an advisory on your website indicating that most of their "integrations" are in BETA.

I am further contacting my bank and the Attorney General for California.

I don't pay for BETA software.

Is there another company that actually fulfills their sales pitches?