Informazioni su QuickBooks Desktop Enterprise
QuickBooks Enterprise is an accounting solution designed for SMBs across different industry verticals such as construction, nonprofit distribution, manufacturing, and retail. With QB Enterprise solution, any business owner can expand business operations using advanced inventory, reporting, and invoice tools, in addition to premium support from Enterprise's CS and Payroll teams. Quickbooks includes inventory management, inventory tracking, expense tracking, payroll management, invoicing, multi-user management, advanced reporting tools, and more. QuickBooks Enterprise offers customizable reporting tools that help users analyze data and make informed business decisions. With over 200+ auto-filled templates and 70 industry-specific reports, this Quickbooks accounting software helps businesses find the QuickBooks data to solve any business issue. Quickbooks advanced inventory tools allow businesses to gain visibility and control over the inventory management process with the ability to track inventory movement, automatically scan and update inventory items, manage any purchase order/sales order from one dashboard, and plenty more. QuickBooks Enterprise also allows businesses to control, customize, and automate financial transactions with job costing tools, batch invoicing, invoice tracking, cash flow management, fixed asset tracking, sales tracking, payment processing, and more. Businesses also have to ability to scan and attach multiple documents including receipts and quotes for multiple accounting tasks. The tool enables businesses to arrange documents into categories and keep track of important accounting files. This solution also maintains a change log to record changes within each document with the proper date and time stamp. QB also offers different QuickBooks software such as QuickBooks Premier and QuickBooks Pro that includes include different functionality and features.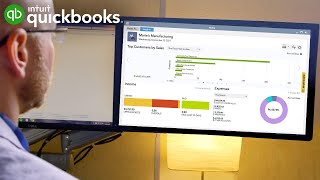 Prezzo di QuickBooks Desktop Enterprise
QuickBooks Desktop Enterprise non dispone di un piano gratuito ma offre una versione di prova gratuita.
Prezzo di partenza:
Non specificato dal fornitore
Dettagli sul prezzo:
Three hosted packages are available - Silver, Gold, and Platinum. Pricing is based on the number of users required. Starting price for one user: Sliver: $111.20/month Gold: $119/month Platinum: $121/month
Alternative a QuickBooks Desktop Enterprise
Recensioni su QuickBooks Desktop Enterprise
Valutazione della caratteristica
Settore: Software informatici
Dimensioni dell'azienda: 2-10 dipendenti

Ogni settimana

di utilizzo per

Prova gratuita

Fonte della recensione
Rapporto qualità-prezzo
5
---
Data della recensione: 30/1/2021
Uno dei migliori software di contabilità per PMI
Posso tenere traccia delle mie spese, vendite, inventari, rapporti finanziari
Vantaggi
Per un'azienda di piccole e medie dimensioni si può avere un sistema di contabilità e inventario facile da usare, tutto in uno.
Alcuni di questi rapporti che sono molto vitali per un imprenditore sono rapporti giornalieri / settimanali / mensili e persino rapporti annuali sulle vendite, rapporti relativi all'inventario, rapporti sulle spese, contabilità fornitori e crediti, banche e molti altri.
Inconvenienti
Personalmente, preferirei che la personalizzazione dei moduli fosse più flessibile dove l'utente può avere più controllo.
In una precedente azienda in cui ho lavorato, ho raggiunto il numero massimo di articoli, quindi mi sono trovato di fronte all'eliminazione di alcuni articoli e quegli articoli avevano transazioni ad essi collegate.
Concludendo, suggerisco a Intuit di aumentare la dimensione massima dell'azienda perché nella mia esperienza, quando ho raggiunto la dimensione massima del file aziendale, il sistema è rimasto completamente indietro.
Settore: Design
Dimensioni dell'azienda: Lavoratore autonomo

Ogni giorno

di utilizzo per

Prova gratuita

Fonte della recensione
Rapporto qualità-prezzo
0
---
Data della recensione: 11/6/2020
ottimo software
Vantaggi
QuickBooks è un pacchetto software e ottimo software, molto utile
Inconvenienti
Il software e un po lento ma non è grave
Settore: Servizi finanziari
Dimensioni dell'azienda: 51-200 dipendenti

Ogni giorno

di utilizzo per

Più di 1 anno

Fonte della recensione
Rapporto qualità-prezzo
5
---
Data della recensione: 10/5/2022
" My Experience With QuickBooks Desktop Enterprise "
Vantaggi
It is a reliable and trustworthy cloud accounting software which has advanced features for online invoicing, billing, ordering, inventory management, online shopping, payrolls creation among others services it offers.
It has Intrusive design and pleasant interface than all.
I crown Self-explanatory tool it is and its capabilities of managing all cash flow and expenses as well as financial analysing report.
Inconvenienti
My organisation and I are OK with all it has since it over delivers.
Settore: Software informatici
Dimensioni dell'azienda: Lavoratore autonomo

Ogni giorno

di utilizzo per

Più di 2 anni

Fonte della recensione
Rapporto qualità-prezzo
5
---
Data della recensione: 30/3/2022
Quickbooks es lo mejor
Gracias a QuickBooks, el seguimiento de todas las transacciones y datos financieros de la empresa y sus proyectos afiliados se ha vuelto muy fácil, ya que podemos pagar y recibir facturas y registrarlas en nuestros registros de una manera simple y segura
Vantaggi
Quickbooks es un sistema muy poderoso, puede hacer casi cualquier cosa a un nivel aceptable. No me he encontrado con un requisito de contabilidad que QuickBooks no pueda manejar por nosotros
Inconvenienti
Result
El servicio de atención al cliente es muy frustrante. La función de chat es un bot que intenta resolver los problemas de los clientes, pero no es tan útil como un humano que puede escuchar y diagnosticar problemas humanos. Los chatbots tampoco funcionan al 100 %, lo que aumenta la frustración. Existe un sistema automatizado similar a un chatbot cuando se realizan llamadas a la línea directa. Toma mucho tiempo, y cuando los humanos finalmente responden, no tienen la autonomía para ayudar. La función de informes para la nómina podría utilizar algunas mejoras. Al navegar por la información de los empleados, a menudo se le solicita que regrese a la página de inicio del empleado después de salir de una pantalla, por lo que no puede saltar rápidamente de una página de información del empleado a otra.
Perché passare a QuickBooks Desktop Enterprise
QuickBooks Online es fácil de aprender y usar. Pensé que me llevaría mucho tiempo aprender a usar la aplicación, pero para mi sorpresa fue muy fácil. Con QuickBooks Online se puede hacer mucho, y con la capacidad de tener varios usuarios en una cuenta, los miembros de su organización podrán completar partes de su proceso de contabilidad.
Settore: Studi legali
Dimensioni dell'azienda: 11-50 dipendenti

Ogni giorno

di utilizzo per

Più di 2 anni

Fonte della recensione
Rapporto qualità-prezzo
5
---
Data della recensione: 7/4/2022
Data Corruption Issues Spoiling a Great Product
I know Quickbooks Enterprise Desktop and it does everything I need to do and more. That part of it is outstanding. The strength, that it is compatible with so many other pieces of software, could also be the weakness, as I think other software accessing my Quickbooks data could be causing the corruption issues I am experiencing.
Vantaggi
I love that Quickbooks is intuitive, works with many other software integrations, every accountant understands it, it is priced well, and easy to use. There is no other accounting software that works with so many different pieces of software. When it is working, it is the best!
Inconvenienti
We have had constant data corruption issues for over a year, despite using the Enterprise version of the Quickbooks. Our file size is around 250 MB, which shouldn't be a problem for Enterprise. Many times when I open the program, there are problems with the data. Oddly, I can just close the file and reopen it until my data verification shows no problems with my data. This means every time I open the software I have to check for problems with my data and every time I close the software I have to save a backup, in case I cannot solve the data corruption issues when opening. The only reason I am still using quickbooks, is that I also have an integrated software solution called Scanwriter, that inputs data to quickbooks for me. I have hundreds of invoices and payments on those invoices to enter every month, so I really don't want to lose the automation factor.
There is a Quickbooks file doctor, that you can use to fix your files, but it really shouldn't be needed on a daily basis. The corruption is such that I will occasionally open Quickbooks to find that none of my customers are there. Then I close and reopen the file a few times and everything is fine. Unfortunately, until I figured that out I went about my usual day entering data, only to find the corruption later and have to restore from a backup and re-enter all of that data. When I contacted support, the problem was not evident, so they couldn't do anything to help.
Risposta di

Intuit

We appreciate you leaving a review, Denise. To help solve some of the issues you can turn off the preference that requires a backup and a verification if you don't want it to run every time you open the file. This can be found under File> Backup company> Create local backup. In the Create Backup window select "Options". Here you can select to remind you to make a backup as well as if it runs a verification when it does backup. Should you open the file and see your info is missing we recommend contacting the QuickBooks Desktop Team to help look into resolving the issue. You can find all the methods to contact them here: https://quickbooks.intuit.com/learn-support/en-us/help-article/account-management/contact-quickbooks-desktop-support/L9d0ZUCrC_US_en_US Hope this helps. -Kristina, The QuickBooks Team

Data risposta: 8/4/2022