Informazioni su QuickBooks Desktop Enterprise
QuickBooks Enterprise is an accounting solution designed for SMBs across different industry verticals such as construction, nonprofit distribution, manufacturing, and retail. With QB Enterprise solution, any business owner can expand business operations using advanced inventory, reporting, and invoice tools, in addition to premium support from Enterprise's CS and Payroll teams. Quickbooks includes inventory management, inventory tracking, expense tracking, payroll management, invoicing, multi-user management, advanced reporting tools, and more. QuickBooks Enterprise offers customizable reporting tools that help users analyze data and make informed business decisions. With over 200+ auto-filled templates and 70 industry-specific reports, this Quickbooks accounting software helps businesses find the QuickBooks data to solve any business issue. Quickbooks advanced inventory tools allow businesses to gain visibility and control over the inventory management process with the ability to track inventory movement, automatically scan and update inventory items, manage any purchase order/sales order from one dashboard, and plenty more. QuickBooks Enterprise also allows businesses to control, customize, and automate financial transactions with job costing tools, batch invoicing, invoice tracking, cash flow management, fixed asset tracking, sales tracking, payment processing, and more. Businesses also have to ability to scan and attach multiple documents including receipts and quotes for multiple accounting tasks. The tool enables businesses to arrange documents into categories and keep track of important accounting files. This solution also maintains a change log to record changes within each document with the proper date and time stamp. QB also offers different QuickBooks software such as QuickBooks Premier and QuickBooks Pro that includes include different functionality and features.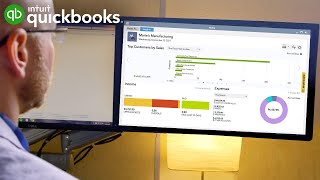 Prezzo di QuickBooks Desktop Enterprise
QuickBooks Desktop Enterprise non dispone di un piano gratuito ma offre una versione di prova gratuita.
Prezzo di partenza:
Non specificato dal fornitore
Alternative a QuickBooks Desktop Enterprise
Recensioni su QuickBooks Desktop Enterprise
Valutazione della caratteristica
Settore: Design
Dimensioni dell'azienda: Lavoratore autonomo

Ogni giorno

di utilizzo per

Prova gratuita

Fonte della recensione
Rapporto qualità-prezzo
0
---
Data della recensione: 11/6/2020
ottimo software
Vantaggi
QuickBooks è un pacchetto software e ottimo software, molto utile
Inconvenienti
Il software e un po lento ma non è grave
Settore: Software informatici
Dimensioni dell'azienda: 2-10 dipendenti

Ogni settimana

di utilizzo per

Prova gratuita

Fonte della recensione
Rapporto qualità-prezzo
5
---
Data della recensione: 30/1/2021
Uno dei migliori software di contabilità per PMI
Posso tenere traccia delle mie spese, vendite, inventari, rapporti finanziari
Vantaggi
Per un'azienda di piccole e medie dimensioni si può avere un sistema di contabilità e inventario facile da usare, tutto in uno.
Alcuni di questi rapporti che sono molto vitali per un imprenditore sono rapporti giornalieri / settimanali / mensili e persino rapporti annuali sulle vendite, rapporti relativi all'inventario, rapporti sulle spese, contabilità fornitori e crediti, banche e molti altri.
Inconvenienti
Personalmente, preferirei che la personalizzazione dei moduli fosse più flessibile dove l'utente può avere più controllo.
In una precedente azienda in cui ho lavorato, ho raggiunto il numero massimo di articoli, quindi mi sono trovato di fronte all'eliminazione di alcuni articoli e quegli articoli avevano transazioni ad essi collegate.
Concludendo, suggerisco a Intuit di aumentare la dimensione massima dell'azienda perché nella mia esperienza, quando ho raggiunto la dimensione massima del file aziendale, il sistema è rimasto completamente indietro.
Settore: Computer e sicurezza della rete
Dimensioni dell'azienda: 2-10 dipendenti

Ogni giorno

di utilizzo per

Più di 2 anni

Fonte della recensione
Rapporto qualità-prezzo
5
---
Data della recensione: 22/10/2020
Our QB online is always ready when we are
Cloud services make everything more secure. Not having to purchase an upgrade year after year is one of the best benefits. Our business is sized so that the online version, which does have less functionality than the desktop version, still works for exactly what we need. The tutorials are helpful and there are plenty of YouTube videos to find a resolution for any problem you have.
Vantaggi
The online version of QB makes it easy to always have the necessary updates and current edition. The file sharing capabilities are the exact tool that is needed for the accountant to easily have a hassle-free exchange of the data they need to keep your books and do taxes. QB payroll that can be accessed through the software and there is easy access to QuickBook loan funding should you ever need it. Anytime, anywhere access is a plus.
Inconvenienti
The naming convention for some processes are a bit daunting until you learn exactly where they are and what they are called. The updates can cause features to be relocated, making them difficult to find. As with all cloud-based software, sometimes there are issues with the online connectivity.
Settore: Fotografia
Dimensioni dell'azienda: 2-10 dipendenti

Ogni giorno

di utilizzo per

Più di 2 anni

Fonte della recensione
Rapporto qualità-prezzo
5
---
Data della recensione: 3/6/2021
Quickbooks for Dummies, like me.
I switched from another "free" service and have never looked back. I love the ease in invoicing, reporting, etc.
Vantaggi
It is very easy to use! I am NOT money minded and have a really hard time with maintaining my book keeping but this application really helps. It tracks everything you want it to and my accountant as well as book keeper can easily go in to find what they need to do their tasks.
Inconvenienti
Sometimes I cannot find the history of an invoice or if someone made changes to it, whether it be myself or my accountant/bookkeeper. There is a LOT to this software so it can be overwhelming but if you stay focused on the task and actually read the help details, you can get through it. Another least like is the fees, but you pay for what you get and its great service.
Settore: Logistica e catena di approvvigionamento
Dimensioni dell'azienda: 11-50 dipendenti

Ogni giorno

di utilizzo per

6-12 mesi

Fonte della recensione
Rapporto qualità-prezzo
3
---
Data della recensione: 28/7/2021
Quickbooks - good alternative from Xero
Pretty good. Will keep using. It is a refreshing change from our previous software.
Vantaggi
We liked the Bank reconciliation, integration and ease of use. We also liked the product support and training provided.
Inconvenienti
The set up required, data migration and the training for colleagues. Sometimes the product lags but that may be our internal issue.
Alternative considerate
Xero
Perché scegliere QuickBooks Desktop Enterprise
The previous software was quite old school and didn't support some features we needed.
Perché passare a QuickBooks Desktop Enterprise
QuickBooks had more features and was more functional in some things like reconciliation etc.