Informazioni su QuickBooks Desktop Enterprise
QuickBooks Enterprise is an accounting solution designed for SMBs across different industry verticals such as construction, nonprofit distribution, manufacturing, and retail. With QB Enterprise solution, any business owner can expand business operations using advanced inventory, reporting, and invoice tools, in addition to premium support from Enterprise's CS and Payroll teams. Quickbooks includes inventory management, inventory tracking, expense tracking, payroll management, invoicing, multi-user management, advanced reporting tools, and more. QuickBooks Enterprise offers customizable reporting tools that help users analyze data and make informed business decisions. With over 200+ auto-filled templates and 70 industry-specific reports, this Quickbooks accounting software helps businesses find the QuickBooks data to solve any business issue. Quickbooks advanced inventory tools allow businesses to gain visibility and control over the inventory management process with the ability to track inventory movement, automatically scan and update inventory items, manage any purchase order/sales order from one dashboard, and plenty more. QuickBooks Enterprise also allows businesses to control, customize, and automate financial transactions with job costing tools, batch invoicing, invoice tracking, cash flow management, fixed asset tracking, sales tracking, payment processing, and more. Businesses also have to ability to scan and attach multiple documents including receipts and quotes for multiple accounting tasks. The tool enables businesses to arrange documents into categories and keep track of important accounting files. This solution also maintains a change log to record changes within each document with the proper date and time stamp. QB also offers different QuickBooks software such as QuickBooks Premier and QuickBooks Pro that includes include different functionality and features.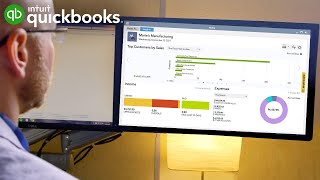 Prezzo di QuickBooks Desktop Enterprise
QuickBooks Desktop Enterprise non dispone di un piano gratuito ma offre una versione di prova gratuita.
Prezzo di partenza:
Non specificato dal fornitore
Dettagli sul prezzo:
Three hosted packages are available - Silver, Gold, and Platinum. Pricing is based on the number of users required. Starting price for one user: Sliver: $111.20/month Gold: $119/month Platinum: $121/month
Alternative a QuickBooks Desktop Enterprise
Recensioni su QuickBooks Desktop Enterprise
Valutazione della caratteristica
Settore: Design
Dimensioni dell'azienda: Lavoratore autonomo
Uso

Ogni giorno

per

Prova gratuita

Fonte della recensione
Rapporto qualità-prezzo
0
---
Data della recensione: 11/6/2020
ottimo software
Vantaggi
QuickBooks è un pacchetto software e ottimo software, molto utile
Inconvenienti
Il software e un po lento ma non è grave
Settore: Software informatici
Dimensioni dell'azienda: 2-10 dipendenti
Uso

Ogni settimana

per

Prova gratuita

Fonte della recensione
Rapporto qualità-prezzo
5
---
Data della recensione: 30/1/2021
Uno dei migliori software di contabilità per PMI
Posso tenere traccia delle mie spese, vendite, inventari, rapporti finanziari
Vantaggi
Per un'azienda di piccole e medie dimensioni si può avere un sistema di contabilità e inventario facile da usare, tutto in uno.
Alcuni di questi rapporti che sono molto vitali per un imprenditore sono rapporti giornalieri / settimanali / mensili e persino rapporti annuali sulle vendite, rapporti relativi all'inventario, rapporti sulle spese, contabilità fornitori e crediti, banche e molti altri.
Inconvenienti
Personalmente, preferirei che la personalizzazione dei moduli fosse più flessibile dove l'utente può avere più controllo.
In una precedente azienda in cui ho lavorato, ho raggiunto il numero massimo di articoli, quindi mi sono trovato di fronte all'eliminazione di alcuni articoli e quegli articoli avevano transazioni ad essi collegate.
Concludendo, suggerisco a Intuit di aumentare la dimensione massima dell'azienda perché nella mia esperienza, quando ho raggiunto la dimensione massima del file aziendale, il sistema è rimasto completamente indietro.
Settore: Editoria
Dimensioni dell'azienda: 2-10 dipendenti
Uso

Ogni giorno

per

Più di 2 anni

Fonte della recensione
Rapporto qualità-prezzo
4
---
Data della recensione: 13/12/2019
Worth the price tag
I started out learning QuickBooks on the desktop version for a previous job, and the software has come a long, long way since then. The online version is well organized, easy to use, and in the three years I've been using it I've never run into a single glitch.
Vantaggi
QuickBooks online gives me one place to track everything related to money for my small business: income, expenses, taxes, and payroll. It's easy to set up and use, and I like knowing that even when I'm not paying as much attention to some of the bookkeeping as I should, it's still being tracked for when I have time to get to it.
Inconvenienti
It's a little pricey and the help/FAQs aren't always that helpful, but those quibbles are greatly outweighed by how easy and useful it is.
Settore: Internet
Dimensioni dell'azienda: 11-50 dipendenti
Uso

Ogni giorno

per

Più di 1 anno

Fonte della recensione
Rapporto qualità-prezzo
5
---
Data della recensione: 4/2/2021
Great Value for the Price
Overall, my company has been happy with our switch to QuickBooks. We previously used Netsuite for our accounting software, but the subscription fees were outrageous and the features were difficult to manage and execute. QuickBooks offers what we need for a very reasonable price on a user-friendly format. I would definitely recommend this to small businesses who do not need a lot of advanced functionality.
Vantaggi
The QuickBooks software is very affordable with lots of good out-of-box features. AR and AP functions are very easy to use for novice users of the software. There are a lot of templated reports that are very helpful for weekly and monthly accounting tasks (Payroll, Vendor Payments, Sales, etc.). The software also allows you to add on a variety of additional features through plug-ins, which you can access for a nominal monthly fee. For example, the BIll.com integration is excellent for paying your vendors online, eliminating the need for mailing out checks each month.
Inconvenienti
The biggest issue with QuickBooks is their customer service department. Whenever we have issues that cannot be resolved by an internal administrator, it takes days and sometimes weeks before an Intuit rep returns our messages. We've been using the software a little over a year and have already been passed around to several different account reps. At one point, their response time was so poor I had to request a different rep. The other thing I find cumbersome with the software is the sales reporting. While the templates are helpful, I often end up with a lot of superfluous information, and the reports are not very malleable, even once exported to Xcel. This is an area I feel could be greatly improved with minimal effort from Intuit.
Settore: Software informatici
Dimensioni dell'azienda: 2-10 dipendenti
Uso

Ogni giorno

per

Più di 2 anni

Fonte della recensione
Rapporto qualità-prezzo
5
---
Data della recensione: 22/2/2021
Our business depends on Quickbooks
Overall, I am very happy with Quickbooks, we have been a customer since 2014 - it works, it's dependable and the support is there if we need it (thankfully infrequently :) )
Vantaggi
I love how easy it is to use and look up the information I need. It handles all the financial stuff we need to do without requiring a huge amount of expertise. It's also user friendly enough that I can train our staff in how to use it :)
Inconvenienti
One thing I notice is that the bank account in the software has never tracked our bank account exactly - so we always manage our bank account separately and use Quick books as a guide. I also find the ledger a little confusing to use, however I think that is more on my own accounting knowledge than any fault of the software