Informazioni su BQE CORE Suite
BQE CORE makes it easier and more profitable to run your business. It organizes information, automates repetitive tasks and allows your firm to spend more time providing service to your clients instead of managing internal processes. BQE CORE is an integrated Time and Expense Tracking, Project Management, Billing and Accounting solution that is scalable for businesses of all sizes. It is built by Architects, Engineers, and CPA's to meet the specific needs of professional services firms. It is packed with simple, powerful features designed to help firms bolster their cash flow by expediting their billing process, while dramatically improving their project management and their ability to analyze performance. Certified partnerships with Intuit, MYOB and other market leaders ensure that CORE intuitively extracts, customizes and delivers customized output from any third-party accounting software.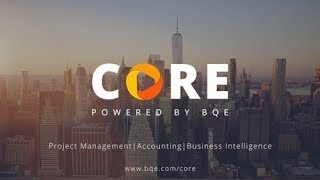 BQE CORE Suite non dispone di un piano gratuito ma offre una versione di prova gratuita.
Dettagli sul prezzo:
Our pricing structure is simple, flexible and designed to fit your needs – you only pay for the features that you and your staff actually use. Annual and multi-year commitment options are available to support the unique needs of your firm. Start a FREE trial today to learn how CORE can maximize productivity and unlock your firm's true profitability potential.
Alternative a BQE CORE Suite
Recensioni su BQE CORE Suite
Valutazione della caratteristica
Settore: Servizi legali
Dimensioni dell'azienda: 11-50 dipendenti

Ogni settimana

di utilizzo per

Più di 2 anni

Fonte della recensione
Rapporto qualità-prezzo
5
---
Data della recensione: 5/4/2019
Valuable software for billing at a law firm
Bill quick is a perfect solution to create invoices and be able to bill many different attorneys on different projects.
Vantaggi
The ability to customize many of its features is great. You can setup and keep track of time associated
with various cases, clients, projects. There are so many reports that you can run to keep track of your spending. Able to export invoices to LEDES format. Able to import time from excel spreadsheet.
Inconvenienti
It takes some time to learn the software, the tech support team was great in getting me up and running. If you want additional reports they have a custom report group but their cost is a bit high to modify reports. It looks a bit complicated but actually it is easy to use.
Settore: Architettura e urbanistica
Dimensioni dell'azienda: 2-10 dipendenti

Ogni giorno

di utilizzo per

Più di 1 anno

Fonte della recensione
Rapporto qualità-prezzo
0
---
Data della recensione: 2/6/2022
Great for time and expense tracking, other features are less straightforward
Overall it gets the job done that we need it to do. Most things are pretty straightforward, but some things you have to dig a little to figure out how to get the information you need.
Vantaggi
Works really well for most of what I use it for: time and expense tracking. Customer support is very responsive.
Inconvenienti
I wish it were easier to see how much money vs time is left in a project.
Settore: Industria edilizia
Fonte della recensione
Rapporto qualità-prezzo
0
---
Data della recensione: 30/6/2015
BillQuick - A look at one year post conversion
Vantaggi
BillQuick is a powerful tool in tracking project time and expenses for professional services. We converted from 7 years of Quick Books data. Although the conversion and integration was not a seemless process, and the learning curve was much longer than originally anticipated, we are now tracking project profitability at a much higher level than we ever have before.
BillQuick Tech Support is fantastic. They are patient and knowledgeable, and we have received a lot of added value by having the Gold Care Tech Support package added onto our services. Additionally, we have invested quite a bit of extra money on having Bill Quick Customization Department write customized reports. Although the standard reports section is extensive, we were unable to find reports that gave us exactly the data we wanted to see. It's nice that this additional service is offered, but it would be nice for them to give us a handful of customized reports as part of the conversion process and then charge extra from there on out.
Inconvenienti
The software is not as user-friendly as it could be. Some things are overly complicated and require detailed use before you understand the functionality of the software. It could not be more different that QuickBooks, and the transition for us was difficult. Personally, I highly underestimated the learning curve.
In the beginning, we were only using BQ for time and expense logging and we maintained our Quick Books file for all other general accounting, which I would strongly discourage. Although the SYNC feature does work to sync data between programs, it is not a clean sync and much of it needed cleanup on either side of the sync. This was very frustrating. We just recently converted all of our general accounting in QB over to the Accounting portal in BillQuick. This has helped to have all of our financial records in one software system and our data is much more consistent. However, the "Accounting" portal is not perfect and there are a number of features that are lacking where QB has it all dialed in. Examples: 1) in looking at a vendor bill, there is no indication or PAID FLAT to see it has been PAID or not. To see if it is paid, I have to look at the previous checks. 2) In a report that lists all AP checks written for a particular time frame, there is no TOTAL at the end of the report. 3) BQ allows duplicate check numbers. (This is not a complete list, but the top 3 things that drive me insane.) These seem like basic accounting features and for them to not be included in an accounting software is frustrating. DISCLAIMER: we have not yet upgraded to BQ2015 and remain on BQ2014 for a while longer. My understanding is that BQ2015 has updated a number of accounting features, so I look forward to seeing if any of those issues are remedied.
Settore: Design
Dimensioni dell'azienda: 2-10 dipendenti

Ogni giorno

di utilizzo per

Più di 2 anni

Fonte della recensione
Rapporto qualità-prezzo
4
---
Data della recensione: 16/4/2022
Running a design practice, what they didn't teach you in architecture school
I check what other apps and services are out there for architects and most are even more overwhelming or offer more than needed for a small practice, or charge much more that it is worth.
Vantaggi
Running a practice and staying financially solvent is key with a way to measure progress with tasks, time and fees. CORE does this and in a way architects can understand since it is designed by architects. However, it tries to cover all variations on running a firm and while appreciable, it can be confusing with too many choices to search and select from. The flexibility is a plus once you reach out to customer service (live24/7/365) and they kindly walk you through a solution.
Inconvenienti
It's a bit complex at the onset of setting up the account and projects. You do it often enough, it does become second nature but it takes time and includes some missteps readily corrected by the help system.
Settore: Contabilità
Dimensioni dell'azienda: 51-200 dipendenti

Ogni giorno

di utilizzo per

Più di 1 anno

Fonte della recensione
Rapporto qualità-prezzo
5
---
Data della recensione: 2/6/2022
BQE, so easy to use
Vantaggi
so easy to use, very little training required. everything is where you expect it to be
Inconvenienti
there are different reports or ways to view your time, this isnt very clear. i would like to use this feature but don't. this is of little importance to me. i am still able to do what i need to do in the software.