Informazioni su BQE CORE Suite
BQE's powerful all-in-one platform and expert support give A & E firms the intuitive tools they need to meet the demands of their firm, empower their team, maximize profitability, and deliver superior results to clients. BQE CORE was designed for the A&E industry by architects and engineers. You need a platform that truly understands your firm and supports it with the specialized tools you need. After running their own successful A&E firms, our founders created the best-in-class platform they needed from the ground up. Our platform supports the specialized needs of the A&E industry. We understand your pain points like no one else. We don't stop at our software. You can also have access to our friendly, expert support team that's as invested in your success as you are. Enjoy access to expert support to ensure your firm operates at its best. Our packages include customer onboarding and 24/7/365 support so you can make the most of the platform. Our support team understands your day-to-day challenges and can identify opportunities for back-office optimization. Today, over 400,000 users trust BQE's award-winning software to streamline their business processes while offering groundbreaking insights that grow their firm and boost their profits.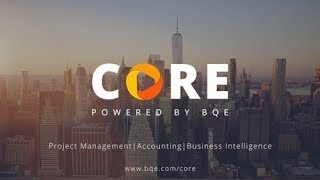 BQE CORE Suite non dispone di un piano gratuito ma offre una versione di prova gratuita.
Prezzo di partenza:
Non specificato dal fornitore
Alternative a BQE CORE Suite
Recensioni su BQE CORE Suite
Valutazione della caratteristica
Settore: Servizi legali
Dimensioni dell'azienda: 11-50 dipendenti

Ogni settimana

di utilizzo per

Più di 2 anni

Fonte della recensione
Rapporto qualità-prezzo
5
---
Data della recensione: 5/4/2019
Valuable software for billing at a law firm
Bill quick is a perfect solution to create invoices and be able to bill many different attorneys on different projects.
Vantaggi
The ability to customize many of its features is great. You can setup and keep track of time associated
with various cases, clients, projects. There are so many reports that you can run to keep track of your spending. Able to export invoices to LEDES format. Able to import time from excel spreadsheet.
Inconvenienti
It takes some time to learn the software, the tech support team was great in getting me up and running. If you want additional reports they have a custom report group but their cost is a bit high to modify reports. It looks a bit complicated but actually it is easy to use.
Settore: Architettura e urbanistica
Dimensioni dell'azienda: 11-50 dipendenti

Ogni giorno

di utilizzo per

1-5 mesi

Fonte della recensione
Rapporto qualità-prezzo
5
---
Data della recensione: 24/9/2022
One program to replace two
Vantaggi
I can do my accounting and invoicing and time expense tracking and payments all from the same program
Inconvenienti
It is a lot to learn at once and took some cleaning up since we brought info over from Quickbooks and ArchiOffice
Perché scegliere BQE CORE Suite
To have eve thing in one place
Perché passare a BQE CORE Suite
I am familiar with and love the customer support BQE provides
Settore: Industria edilizia
Fonte della recensione
Rapporto qualità-prezzo
0
---
Data della recensione: 30/6/2015
BillQuick - A look at one year post conversion
Vantaggi
BillQuick is a powerful tool in tracking project time and expenses for professional services. We converted from 7 years of Quick Books data. Although the conversion and integration was not a seemless process, and the learning curve was much longer than originally anticipated, we are now tracking project profitability at a much higher level than we ever have before.
BillQuick Tech Support is fantastic. They are patient and knowledgeable, and we have received a lot of added value by having the Gold Care Tech Support package added onto our services. Additionally, we have invested quite a bit of extra money on having Bill Quick Customization Department write customized reports. Although the standard reports section is extensive, we were unable to find reports that gave us exactly the data we wanted to see. It's nice that this additional service is offered, but it would be nice for them to give us a handful of customized reports as part of the conversion process and then charge extra from there on out.
Inconvenienti
The software is not as user-friendly as it could be. Some things are overly complicated and require detailed use before you understand the functionality of the software. It could not be more different that QuickBooks, and the transition for us was difficult. Personally, I highly underestimated the learning curve.
In the beginning, we were only using BQ for time and expense logging and we maintained our Quick Books file for all other general accounting, which I would strongly discourage. Although the SYNC feature does work to sync data between programs, it is not a clean sync and much of it needed cleanup on either side of the sync. This was very frustrating. We just recently converted all of our general accounting in QB over to the Accounting portal in BillQuick. This has helped to have all of our financial records in one software system and our data is much more consistent. However, the "Accounting" portal is not perfect and there are a number of features that are lacking where QB has it all dialed in. Examples: 1) in looking at a vendor bill, there is no indication or PAID FLAT to see it has been PAID or not. To see if it is paid, I have to look at the previous checks. 2) In a report that lists all AP checks written for a particular time frame, there is no TOTAL at the end of the report. 3) BQ allows duplicate check numbers. (This is not a complete list, but the top 3 things that drive me insane.) These seem like basic accounting features and for them to not be included in an accounting software is frustrating. DISCLAIMER: we have not yet upgraded to BQ2015 and remain on BQ2014 for a while longer. My understanding is that BQ2015 has updated a number of accounting features, so I look forward to seeing if any of those issues are remedied.
Settore: Assicurazioni
Dimensioni dell'azienda: 51-200 dipendenti

Ogni giorno

di utilizzo per

1-5 mesi

Fonte della recensione
Rapporto qualità-prezzo
5
---
Data della recensione: 3/8/2022
CORE is a real time saver !
Implementation took longer than expected but has proved worth the extra time to get it right.
Vantaggi
Using CORE to invoice our clients has freed up so much of my time I'm afraid I could have streamlined myself out of a job. Billing previews that used to take days are now done in hours. The time to create invoices and submit them for approval takes about 25% of the time before CORE. Easy to learn and a breeze to use.
Inconvenienti
ORE is a very complex software system to set up, but once we worked out all of the nuances and specifications, this software rocks!
Perché scegliere BQE CORE Suite
Centralized online database for multiple locations and web-based time tracking.
Perché passare a BQE CORE Suite
Price was a key factor, but so was familiarity.
Settore: Ingegneria civile
Dimensioni dell'azienda: 11-50 dipendenti

Ogni giorno

di utilizzo per

Più di 2 anni

Fonte della recensione
Rapporto qualità-prezzo
0
---
Data della recensione: 19/9/2022
BQE Online Functionality
Vantaggi
Its ease of use. the software is innovative and very stable.
Inconvenienti
I haven't found anything that is a detriment.