Informazioni su Marketing 360
Marketing 360 is a cloud-based marketing platform suited for entrepreneurs as well as small and midsize businesses. This solution allows organizations to run social media advertising campaigns, conduct search engine optimization (SEO) programs and analyze digital marketing performance. Marketing 360's UXi websites feature helps users create web pages branded web pages that include call-to-action buttons. In addition, the system provides website templates that can be customized and edited with the help of drag-and-drop functionality. Marketing 360's Natural Listing Ads feature helps users manage organic search results by tracking keyword volume and ranking. In addition, it analyzes competitors' SEO performance with the same keywords and shares real-time reports providing organic conversion rates. The Social Targeting Ads let organizations to segment and target clients on the basis of social details such as age, gender, location and interests.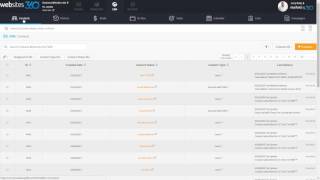 Marketing 360 dispone di un piano gratuito e offre una versione di prova gratuita. La versione a pagamento di Marketing 360 è disponibile a partire da 25,00 USD.
Prezzo di partenza:
25,00 USD
Alternative a Marketing 360
Recensioni su Marketing 360
Valutazione della caratteristica
Uso

Ogni giorno

per

6-12 mesi

Fonte della recensione
Rapporto qualità-prezzo
5
---
Data della recensione: 21/6/2018
Great Team of Professionals to Work With
It all works together. That is incredibly important. You need all your sources to be able to come into one location and be tracked. Leads are the businesses life blood.If you can't track everything you do, you are just shooting in the dark.
Vantaggi
Most small businesses have a person to do their website, another to do their social media. Working with the team at Marketing 360 I have an expert in every field working on my businesses that are working together. They created a great logo, an incredible website that I have received major accolades for, social media, blogs, videos, etc. that all work together to make my business look professional and keep me on page one for all my keywords. Then they do all the things I hate doing like setting up and populating my CRM. They provide a calendar where my assistance can update my calendar. Then they do something most small businesses never do; they track EVERYTHING. We know immediately when something is working or not working. Most businesses are just shooting in the dark. This process take a while. If you only tried Marketing 360 for 6 months, you haven't given it a fair shake. Marketing takes a while. I know. I have been doing marketing for several years. It takes time to dial it in. Time busy business people do not have. That why I turned 99% of my marketing over to a TEAM, the team of Marketing 360; They work together to bring me customers and brand my business with a consistent message.
Inconvenienti
I wish the calendar would tie into my other calendars. Other than that, I have been very satisfied with Marketing 360 and the software.
Risposta di

Madwire

Roy, thank you so much for your review and feedback. We appreciate and value the feedback. All ships rise together and we are excited to work with you and build your business up continuously. Thanks for your business.

Data risposta: 11/7/2018
Settore: Industria alberghiera
Dimensioni dell'azienda: Lavoratore autonomo
Uso

Altro

per

Prova gratuita

Fonte della recensione
Rapporto qualità-prezzo
5
---
Data della recensione: 4/2/2021
Marketing 360 Review
SOLD PENDING BUDGET ABUNDANCE!
Vantaggi
I'll be honest, I haven't began diving into the product yet! I am still working on including the pricing into my budget! However, I would like to give anecdotes to [SENSITIVE CONTENT HIDDEN] for his Customer Service experience I received..
- [SENSITIVE CONTENT HIDDEN] responded to my inquiry about pricing with in the hour which is saying a lot in my perspective since I am just a small 1 woman team for my business..
- So that says to me they care about each client, and truly figuring out solutions for even us 1 woman teams! - I felt comfortable the entire time honestly it felt as if we had become new friends by the end of the experience..
- He was very transparent about what the pricing would and wouldn't include, and wasn't trying to just solicit business to add new accounts! ( I felt like I actually learned from the experience)
- He allowed me to ramble about my life for a moment!!! ( Lol this felt good! As an entrepreneur everyday is a new challenge, things to accomplish, and goal to meet.. So have a few venting moments about entrepreneurship was super helpful)
- Even though the plan is currently out of my price budget, It soon will be, and just based on [SENSITIVE CONTENT HIDDEN] I won't be looking further for any marketing needs!!!
- I didn't feel judged or as if my inquiry wouldn't hold value for not having budget flexibility at the moment..
So, based on my initial Customer Service experience I'm already sold!! I need [SENSITIVE CONTENT HIDDEN] on my team to help build my empire for sure!!
Inconvenienti
N/a because i haven't started working with it yet!
Risposta di

Madwire

This is amazing feedback, Jasmine. Thank you so much for taking the time to comment about your experience.
I hope you're enjoying all the free tools and we're really excited for the chance to get to work with you, now or in the future.
Thank you again!

Data risposta: 23/3/2021
Settore: Studi medici
Dimensioni dell'azienda: Lavoratore autonomo
Uso

Ogni giorno

per

Più di 2 anni

Fonte della recensione
Rapporto qualità-prezzo
0
---
Data della recensione: 20/7/2018
Don't Trust Them
Overall do not trust this company. You can say they don't know what they are doing when it comes to ads. They screwed me over on their sales pitch and nothing they said they would do to my website was carried over into their work. Plugins were deactivated and deleted from my website when we were done.
Vantaggi
Prior to signing up with this company their sales team was contacting me almost everyday with their pressure sales tactics. "What's taking you so long to finish what you're doing with your website". So many statements like that which then lead them to say they could do what was needed. Which they didn't. There wasn't one good thing about this company. Ads were late, not promoted, graphic design was poor quality and no imagination.
Inconvenienti
We planned on launching the first ads campaign on Black Friday and they missed the launch. Their excuse was they were snowboarding. They didn't think it was a big deal and brushed it off.
I signed up with them because their sales department said they could help me with my website. I needed video integration, stats and a email pop up. They were confident prior to signing their contract that they could do it until after I paid them.
Prior to signing their contract I ran my own ads for 3 weeks on Google and I brought 30,000 visitors to my website with a average stay of 5 minutes. In their 4.5 months of ads they brought a total of 3,500 visitors with a average stay of .5 seconds.
Nothing they said in the beginning was carried over into their advertising strategies.
Zero remarketing was done the majority of the money spent was on Facebook. When you sign up with them you basically pay for someone to take a image off Google and add caption to it. That is all they did.
When I was done with their advertising I had a lot of plugins (wordpess) deactivated prior to them leaving my website. They were also following random people on Instagram.
Risposta di

Rachel

Hi Tyler, Thank you for providing your feedback. It disappoints us you feel this way and would like to address your concerns. We developed a marketing game plan for one of your two businesses, and we trusted the information you gave us was up-front and correct. Just before signing on, you made the decision to change which business you would be bringing on board with us but chose to utilize a marketing strategy developed for your other business. The planned Black Friday campaign was, in fact, ready to launch, pending your final approval. We made multiple attempts to reach you for final approval well in advance of Black Friday. However, you weren't able to respond to us until the Monday following Black Friday. It also seems that either your analytics are off, or you misrepresented your previous marketing strategy to our team. 30,000 visitors in three weeks via Google ads would indicate you spent more on ads in two days, before hiring us, than what you invested into your ads over the course of our four month (not 2+years) relationship. We agree that trust is important in a partnership, and we'd likely agree it must go both ways. We work hard for our clients. We're sure you do as well. We wish you the best moving forward.

Data risposta: 26/9/2018
Settore: Marketing e pubblicità
Dimensioni dell'azienda: 2-10 dipendenti
Uso

Ogni giorno

per

Più di 2 anni

Fonte della recensione
Rapporto qualità-prezzo
4
---
Data della recensione: 5/12/2018
Marketing that comes full circle ;)
When they say they are the #1 marketing platform for small business, I truly believe they are right. I have been using Marketing 360 for years, and without it I would not have been able to build my company providing consultant marketing work for small business to what it is today!
Vantaggi
Marketing 360 does most of the work for you; sign up your business and you get paired with a marketing consultant on their end, who helps you break down all the metrics provided through their platform. Their visual representations are far superior to any marketing software I have seen -- think Google analytics, but more visually appealing.
Inconvenienti
I am sure it has a bit of a steep learning curve for new users & non-marketers. We used to give clients a portal to check out their businesses' marketing needs, etc. first hand -- but some complained that it was over-complicated, so we do not provide these anymore. However, as a graduate in Marketing at MSU, I had not problem navigating any of the resources provided; I am sure that any new user could learn the process within days.
Settore: Intrattenimento
Dimensioni dell'azienda: 2-10 dipendenti
Uso

Ogni giorno

per

Più di 1 anno

Fonte della recensione
Rapporto qualità-prezzo
5
---
Data della recensione: 29/8/2018
This is how digital marketing should be!
I have recommended marketing 360 to a number of clients. I like that the team is responsive to all requests, I like that the CRM is very easy to use and that the emails can be automated based on various selections. It is a great platform for digital marketing for any sized business.
Vantaggi
I like that I can see very clearly what the cost of each component of the digital program is. The CRM is very easy to use and allows us to maximize each lead.
Inconvenienti
I wish there were some additional automations available.
Risposta di

Madwire

Hi Joanna! I really appreciate you taking the time to leave us such a great review. When we first went about building the Marketing 360® platform it was really important to us to make sure that not only was every aspect of your digital marketing visible, but that it was also actionable. I love to hear that you're using the CRM as well, as that is a huge opportunity many business owners miss out on.

What sort of additional automations would you like to see in future iterations? We're always looking for feedback on new features and functionality we can add. Your Marketing Executive, Joey, would be happy to pass those requests on to our R&D team for review.

Thanks again! It's been a pleasure working with you and I know we'll be great partners for years to come. :)

Data risposta: 10/9/2018