Informazioni su Front
Front is a customer communication hub that allows companies to offer tailor-made service at scale. We combine the simplicity of the email inbox with the automation and insights of a CRM. Behind the scenes, teammates from all departments can work together to send the best replies faster, keep messages organized across channels, and always maintain a personal touch. Teams of 5 and 5,000 alike use Front to scale their communication without compromising on quality or efficiency.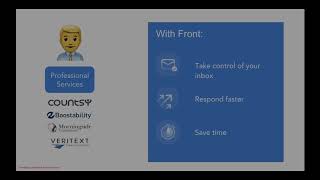 Front non dispone di un piano gratuito ma offre una versione di prova gratuita. La versione a pagamento di Front è disponibile a partire da 19,00 USD/anno.
Dettagli sul prezzo:
Starter plan: $19/user/month (billed annually) Prime plan: $49/user/month (billed annually) Enterprise plan: Contact Sales (billed annually)
Visualizza piani tariffari
Valutazione della caratteristica
Marjolaine L.
Marjolaine L.
Settore: Trasporti/Trasporto merci/Ferrovie
Dimensioni dell'azienda: 11-50 dipendenti

Ogni giorno

di utilizzo per

Più di 1 anno

Fonte della recensione
Rapporto qualità-prezzo
5
---
Data della recensione: 12/3/2020
Best email software ever
We have a shared inbox and we had trouble to avoid double answers and we had to forward the emails to each other or CC them on our replies so they could get informed of a conversation
Vantaggi
Sharing emails without having to forward them, being able to have internal conversations within an email, plenty of integrations
Inconvenienti
When I need to speak to all the team, I have to create a discussion and add them all, one by one.
I'd rather have the possibility to @team within an email or a discussion to make sure they are all included.
I also whish we could find a slack inbox where we could find all the channels we have and avoid having to switch between the two softwares.
Settore: Assicurazioni
Dimensioni dell'azienda: 11-50 dipendenti

Ogni giorno

di utilizzo per

1-5 mesi

Fonte della recensione
Rapporto qualità-prezzo
5
---
Data della recensione: 19/8/2020
Love Front- Would Recommend
Great experience. Sales Rep was educated, nice, responsive and a pleasure to work with. Then the product was easy to use and solved what we needed.
Vantaggi
It is incredibly easy to use. We transitioned to this from HubSpot support and we were concerned about a learning curve, it is about as basic and intuitive as it comes. We budgeted 2 weeks to implement and it took us less than 2 days to transfer everything over and learn how to use it for its core functions.
Inconvenienti
I may be doing this incorrectly- but the Slack integration doesn't always work correctly. I think it would've been helpful in the integrations section to have a troubleshooting guide if it doesn't work. For us we filled out all fields and appropriate slack channels but the messages were not sent there. (Again could be our error)
Perché scegliere Front
HubSpot was AWFUL! I am so passionate about this. We had several situations with HubSpot where emails were sent to the wrong individuals with support tickets, the site crashed completely, and it was inconvenient that they did not have a mobile app. We got a Customer Success Representative at HubSpot assigned to us and they "follow-ed up" on the bugs and were never fixed. Eventually she ghosted us. Switching to front was the best thing that could've happened to us.
Perché passare a Front
As part of our product offering, we send emails from our client's email domain to appear as it is from them. With these integrations, Zendesk's product was unable to support the configuration but Front was able to.
Settore: Marketing e pubblicità
Dimensioni dell'azienda: 51-200 dipendenti

Ogni giorno

di utilizzo per

6-12 mesi

Fonte della recensione
Rapporto qualità-prezzo
0
---
Data della recensione: 2/4/2018
One of the worst email applications I've ever used
Vantaggi
The overall look of Front is simple, which is nice.
The snooze function on emails.
The support staff were friendly and quick to answer.
Inconvenienti
My company switched my team over to Front after a couple people who shared an inbox had issues with managing it. I didn't have a shared inbox, but struggled with the lack of functionality for just personal inboxes.
There are so many missed functionalities to Front it made my job incredibly inefficient. I found myself spending more time doing my job which consists of heavy emailing because of Front problems.
1. No calendar. Cannot make appointments, set up meetings, etc.
2. Unable to edit messages in a previous thread. Say someone sends you a list of questions. You cannot just answer next to their list in the previous email and say "see below."
3. Archiving messages... when we first switched to Front, the management team used it for a few weeks to test it. When the team was instructed to switch within the next couple weeks, and BOOM thousands of emails that Front could not autoarchive. I had about 10 emails in Outlook during the switch. The front inbox had accumulated thousands over the course of the management test period. Front could only auto archive shared inboxes, not personal. I had to spend 20 minutes selecting 3000 emails to auto archive since it didn't sync correctly with Outlook.
4. Saving emails... you can't. You only have the option to send a link of the email which only works for those that also used front.
5. You cannot edit pasted tables in front, as far as formatting goes. No deletion of columns or making rows smaller.
6. No red flags or categorizing. Often I'd keep emails in Outlook and red flag them to remind myself to check on it before I leave. No flagging in Outlook. This is replaced by snoozing in Front to make it reappear later, but I do miss the flag option.
7. You archive something in someone else's inbox that they share with you... it archives in their inbox, too.
8. No options to make folders. You want to move emails to a folder to refer to later? You cannot.
I could go on and on and ended up emailing a list of 18 problems after using Front for the first 3 months to management who sent to Front support. The responses were basically they hope to rollout that feature one day. Which obviously doesn't help now.
Settore: Settore automobilistico
Dimensioni dell'azienda: 10.000+ dipendenti

Ogni giorno

di utilizzo per

Più di 1 anno

Fonte della recensione
Rapporto qualità-prezzo
5
---
Data della recensione: 15/8/2021
Nice Product!
My overall experience is , Chiefs at our organization guaranteed they had the option to accomplish 'inbox zero' out of the blue utilizing Front. The idea of allocating messages to individuals to activity has substituted the requirement for a different tagging framework.
Vantaggi
It's really simple to utilize and consummate when working in group. It's fundamentally difficult to miss any email with this product and very pleasant the manner in which it seems as though when utilizing it consistently.
Inconvenienti
The schedule isn't great however is helpful when absolutely necessary. The contact highlight is shockingly ailing in usefulness contrasted and the remainder of the application. The examination reports could be more adaptable.
Settore: Telecomunicazioni
Dimensioni dell'azienda: 2-10 dipendenti

Ogni giorno

di utilizzo per

Più di 2 anni

Fonte della recensione
Rapporto qualità-prezzo
2
---
Data della recensione: 31/7/2020
Great Software, Terrible Billing and Support Policies
Vantaggi
It has a number of very good features for helping teams work together for sales and support. The abilities to share, assign, comment on, snooze and resurface issues makes zero inbox possible. Keeps clutter down and focus on what is most important at the moment. We really like the 'product'.
Inconvenienti
-Front's Billing policies are absurd. If one signs up for an annual plan adding a user even if only temporarily for a day or a month while transitioning employees results in a charge for as much as a full year for that seat.
-During the sales process, you will experience significant personal, real-time communications. Once the sales process is over, don't hope to EVER be able to have a real-time conversation with anybody. Regardless of the severity or complexity of the issue, the only option is email that often takes days to get a response which can be a real problem when the platform is down since it is the only way to contact them. They had a chat ability for a while but turned it off apparently because customer expectations for a timely response were too high.
-Don't bother making suggestions. Although they have what appears to be a strong attitude towards involving customers, suggestions get a pat on the head and swept into a 'we'll pass that on' basket. No methods or interest to surface ideas and suggestions in a way that other end-users can expand upon or upvote/prioritize.