Informazioni su RingCentral Contact Center
RingCentral's leading cloud contact center offers skill-based routing, agent management, real-time insights, and more to empower your employees to deliver better customer experiences. With the right tools, your agents can meet your customers on any channel at any time. Do more with your customer support and upgrade your call center with RingCentral Contact Center. As the industry leader in cloud contact center software, empower your employees and deliver better service on any channel at any time.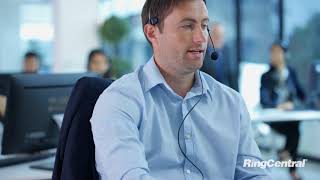 Prezzo di RingCentral Contact Center
RingCentral Contact Center non dispone di un piano gratuito.
Prezzo di partenza:
Non specificato dal fornitore
Alternative a RingCentral Contact Center
Recensioni su RingCentral Contact Center
Valutazione della caratteristica
Settore: Studi legali
Dimensioni dell'azienda: 2-10 dipendenti

Ogni giorno

di utilizzo per

Più di 2 anni

Fonte della recensione
Rapporto qualità-prezzo
5
---
Data della recensione: 4/12/2018
Great for Small Virtual Law Office
We have a small office without a live receptionist yet we need to have different call routing for each person. I am able to configure the options for any variable (holidays, vacations, etc.).
Vantaggi
Ring Central is very configurable for many situations. We have a small law office with people working remotely so we have different call flows for different people. Ring Central can handle the differences. Also, I love having the app so I can check voicemails directly from my cell device.
Inconvenienti
Because of the wide range of ways the call routing can be configured, it is somewhat difficult at the start to determine how to do it. However, Ring Central's customer service is always available and has always been able to help me when I call.
Settore: Assicurazioni
Dimensioni dell'azienda: 201-500 dipendenti

Ogni giorno

di utilizzo per

1-5 mesi

Fonte della recensione
Rapporto qualità-prezzo
5
---
Data della recensione: 12/7/2021
Review for RingCentral Contact Center
Vantaggi
We like that RingCentral has an extensive reporting system so that we can monitor efficiency of our call queues. Our management wanted to view realtime reports and graphs to show how our staff was working, which hours were peak hours and which hours needed more staff.
Inconvenienti
So far we do not have any complaints for using the software. Initial setup wise, our call queues were fairly complicated so we had to hire a third party to setup our call queues and directory structure. We felt that the initial setup through incontact was too complicated without utilizing outside help. Im not sure if there was a better way around this, however, such as more docs or such.
To put into perspective, our migration from our previous, on-prem phone system to RC took about 3 months of setup. This included account creation, call tree creation, logic and voice recording for 8-9 different companies.
Perché scegliere RingCentral Contact Center
We had reliability issues with Amazon Connect which required us to change. The feature set was also lacking, although we did appreciate the amount of integrations that were available through AWS. We switched from Mitel in part due to cost but also due to reporting. The reporting we were receiving from the phones were inaccurate which management asked us to resolve. We were unable to find a solution, so we had to transition phone providers. This was coming off several other instances of issues with Mitel not working correctly or features missing.
Perché passare a RingCentral Contact Center
We chose ringcentral since we had started using ringcentral for a small office we also own. The setup was simple, our relationship was good and the price was comparable to other products. Making the switch had its fair share of difficulties but afterwards, the feature set was exactly what we had asked for.
Settore: Industria edilizia
Dimensioni dell'azienda: 2-10 dipendenti

Ogni giorno

di utilizzo per

1-5 mesi

Fonte della recensione
Rapporto qualità-prezzo
1
---
Data della recensione: 16/11/2020
Delays in the call quality, terrible customer service, and extra charges
Terrible. They told me there would be no additional charges as I described how we would be forwarding calls to an Australian admin when we signed the contract. The forwarded calls then didn't go through to our admin and were getting blocked. I reached out to customer service and they told me we needed to get white listed and sign a contract accepting liability for any fraud.
As I was getting that done, the service agent disappeared and a new agent took over and told me that wasn't the problem at all. Instead we needed to turn on international forwarding. That's when I learned that there was an additional charge per minute for each of those calls. I had confirmed multiple times with the account rep that there wouldn't be any additional charge when we signed the contract.
When I let their support team know what was happening, they told me I needed to talk to the account rep. Even though I told them our new startup was depending on taking these calls and getting this figured out, they never called me back. I reached out many times to support and they conveniently 'lost' all records of our calls and wanted me to start over in explaining what went wrong each time. Finally, they decided they wouldn't even send me the record of the chat so that I could more easily explain the problem the next time the didn't call me back.
Vantaggi
It seems like it has a lot of options in its feature sets.
Inconvenienti
There were significant delays in the call which made it unusable in a business setting. We experienced 2 second delays, which made conversations very difficult.
Settore: Industria edilizia
Dimensioni dell'azienda: 11-50 dipendenti

Ogni giorno

di utilizzo per

Più di 1 anno

Fonte della recensione
Rapporto qualità-prezzo
0
---
Data della recensione: 31/7/2022
Review of Product Software
RingCentral has allowed us to speed up call routing and decisions making among our operators that is crucial to our success
Vantaggi
The features of RingCentral that are most impactful for our business have been the call center management and Caller ID. We find that these features have allowed us to make more money each month through the ease of integration into our current processes and the ability to create new efficiencies that we would have not had the chance to create with other similar software options available in the marketplace.
Inconvenienti
We've not found anything about RingCentral that is difficult to use or problematic with integrating into our existing systems.
Settore: Industria edilizia
Dimensioni dell'azienda: 51-200 dipendenti

Ogni giorno

di utilizzo per

6-12 mesi

Fonte della recensione
Rapporto qualità-prezzo
5
---
Data della recensione: 22/7/2021
Ringcentral has changed the way our company operates
It has been great, I like that I can have it open on multiple devices at once. I often find myself using my desktop version to text and my cell phone to take calls. 10/10
Vantaggi
It never fails. We have previously tried other telecommunication software which has caused us grief. In the 7 months that we have been using RingCentral, we have had little to no problems and it has streamlined a lot of our companies processes. I like that it supports MMS and I can send images as well as other forms of media through text to employees. There are plenty of other features that I probably haven't made the most out of yet but will sure get around to doing. I like the call recording aspect and the voicemail transcript.
Inconvenienti
I would like it if I could send batch text messages out to our employees to which they could respond to me only.