Informazioni su SimplyBook.me
SimplyBook.me is a cloud-based scheduling solution designed for service businesses in multiple industries. It provides a booking site so that users can accept online bookings, collect client feedback to optimize revenue and service performance and send email and SMS appointment reminders to both service providers and clients. The tool allows users to send out promotions, set up recurring services, link service providers or select services and customize options for the booking site. Customization includes adding the booking system as an iFrame or adding a booking button to a website or Facebook page. Clients can access the booking page from multiple devices, make bookings and can cancel bookings when required. Service providers can synchronize their personal google or outlook calendars to their SimplyBook.me booking calendar. The solution provides booking widgets for Facebook, WordPress and other CMS systems. Pricing is based on a number of bookings and number of chosen custom features.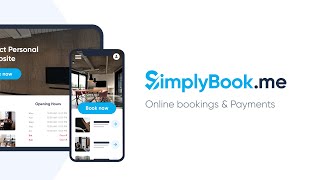 SimplyBook.me dispone di un piano gratuito e offre una versione di prova gratuita. La versione a pagamento di SimplyBook.me è disponibile a partire da 10,00 USD/mese.
Alternative a SimplyBook.me
Recensioni su SimplyBook.me
Valutazione della caratteristica
Settore: Marketing e pubblicità
Dimensioni dell'azienda: Lavoratore autonomo

Ogni giorno

di utilizzo per

6-12 mesi

Fonte della recensione
Rapporto qualità-prezzo
5
---
Data della recensione: 6/4/2021
Affordable and Powerful Booking Software
This software works very well for booking. We had complicated requirements for customer support and coaching and this software handled both well.
Vantaggi
I loved the features included with the base package and the ability to add extra features alacarte to keep costs low. Customers can self-cancel and outgoing emails can be customized. Zapier included!
Inconvenienti
The moment you need an extra feature after your first three alacarte ones, the price jumps up into the next alacarte tier. Also, you cannot create booking "buffers" or delays for different departments. For example, if you want customer service customers to wait at least 1 hour before booking a customer service call, but want coaching customers to wait 24 hours before booking a call, it cannot accommodate those different delays in different departments. The entire company must be either a 1 hour delay, or a 24 hour delay.
Settore: Artigianato
Dimensioni dell'azienda: 2-10 dipendenti

Altro

di utilizzo per

1-5 mesi

Fonte della recensione
Rapporto qualità-prezzo
5
---
Data della recensione: 6/9/2020
Just what we needed.
I looked very hard for a better affordable service for my needs, but I kept coming back to Simply Book Me.
Vantaggi
I like that you can add on features and that it integrates with WordPress. Also, we took a pretty long break due to the pandemic, but when I logged in five months later, all of my data was there, waiting for me. We have multiple income streams from finished pottery and bisque ceramics, as well as from instruction and studio rental. We use Simply Book Me for booking studio sessions. It is nice because we can control how many sessions can be booked at the same time and the customer can choose to pay via the booking site or at the session. I am excited to see that we can promote related products as well.
Inconvenienti
One downside is paying a monthly or yearly fee for something you may only use intermittently. However, the price is affordable enough that it is painless to absorb the cost into product pricing and much cheaper for us and the customer than other scheduling and/or event services.
The flow and feel of this platform, for both the administrator as well as the user, is a bit awkward. I would prefer a more modern polish to the interface, similar to other event and scheduling software. The user interface is styled similar to WordPress, but it is less intuitive. The same goes for making appointments. It takes a bit to really understand how to use it. I find that I have to do a little hand-holding with my customers. This fits with our brand, so it isn't a deal-breaker, but nonetheless worth noting.
Risposta di

SimplyBook.me

Dear Dianne,

Thank you so much for taking the time to leave us your feedback, we truly appreciate it!

We are just about to start redoing the design for admin interface, so gradually you should see some improvements there. If you are finding the booking flow of your booking website cumbersome, please reach out to our Live Chat and ask them to suggest changes to make it more intuative for your clients.

All the best
The SimplyBook.me team

Data risposta: 30/9/2020
Settore: Salute, benessere e fitness
Dimensioni dell'azienda: 2-10 dipendenti

Ogni giorno

di utilizzo per

Più di 1 anno

Fonte della recensione
Rapporto qualità-prezzo
5
---
Data della recensione: 21/6/2021
Great support, needs some alterations
Generally very pleased with how this works alongside my business and keen to remain using this software.
Vantaggi
The customer support is amazing, some of the best I have ever had. It integrates with my website really well, and I love that you can customise it to match your brand.
Inconvenienti
A few things have been really frustrating for me:
- There is no option to select that they have paid a deposit in person, only online payments. This means I have been unable to take deposits at all as there is no way of documenting quickly if they have been taken, other than writing a comment which may be missed by another practitioner.
- Body charts would be very helpful for health care settings
- The ability to attach a PDF/document would be very useful, at present I need to store these on my computer outside of the database
- I need to be able to extract more data onto an excel spreadsheet. Data such as, number of appointments, amount spent would help to analyse most profitable clients
- The ability to put in a discount code manually when creating a booking (when someone books over the phone). I have been unable to do this
- To have a search function on the main calendar page would be very useful. Then, rather than searching for booking details/transactions etc it would be better if they were all in one place
Settore: Intrattenimento
Dimensioni dell'azienda: 2-10 dipendenti

Ogni giorno

di utilizzo per

6-12 mesi

Fonte della recensione
Rapporto qualità-prezzo
4
---
Data della recensione: 3/5/2021
Very confusing but amazing customer service
Its a great tool, so easy for the client side but for the business owner, aye!
Vantaggi
Love the ease for our clients to book and it has a built in website. It integrates with square and very affordable. The websites are beautiful not very customizable but you can manage.
Inconvenienti
Very confusing! Because majority of the major features that anyone would need counts as custom feature, its so difficult to find what you need. There are settings under Welcome, Manage, Custom features, and settings. Honestly, been using this site for 6months or more and still don't know where all settings and features are, so just click click click away til you find it. Sometimes, you would have to look deeper. Example, for time schedules. OMG, ,good luck! Good thing is c\they have the best customer service on chat 24/7 so you would just have to chat with them and they'll give you a link. God bless them! Another con would be the reports! REPORTS is key guys! Reports are our roadmap! Can we get a report for all the deposits? or just add deposit column to the booking details. Lastly, marketing, you're limited if you want to get on Google's 1st page without ads.
Risposta di

SimplyBook.me

Hi Gloria,

Thank you so much for a very constructive feedback, we appreciate it highly.

We would like to ask if you are up to joining us for a focus groups where we would discuss user friendliness of the system as well as reports. It would be very useful to hear your specific comments about what exactly could be improved. Please reply directly to this email if you are interested and we will set up a call.

Best regards
Rut

Data risposta: 5/5/2021
Settore: Gestione formativa
Dimensioni dell'azienda: 2-10 dipendenti

Ogni giorno

di utilizzo per

1-5 mesi

Fonte della recensione
Rapporto qualità-prezzo
3
---
Data della recensione: 21/2/2021
Everything you'd ever need
Overall, I'm very pleased with this software.
Vantaggi
I searched for software that I could add to my Wordpress site that would allow for multiple locations (service providers), allow for different pricing, coupons, easy booking and more. This also has a simple Facebook integration, marketing tools and so much more.
It took me a few days to figure it out as there are many features that are weaved together. But once I did, it now takes just minutes to add or edit classes and services.
Inconvenienti
The add-ons are expensive and may not make sense for my business in the long run as we scale up. We shall see.
Risposta di

SimplyBook.me

Dear Danny

Thank you so much for taking the time to leave us your fantastic feedback, we truly appreciate it!

All the best
The SimplyBook.me team

Data risposta: 25/3/2021