Informazioni su Glasscubes
Glasscubes offers cloud-based collaboration solution for businesses. It provides for file sharing, collaboration and document management, making it accessible from devices with an internet connection. Glasscubes' file sharing module lets users store their documents in the cloud, while it's online community facilitates knowledge sharing. Users can upload any type of file they want without size restriction and can share files with people who are not subscribed to Glasscubes by sending them a password-protected link. This software features a "whiteboard" tool, where team members can jot down notes and attach images and links on a shareable whiteboard. Glasscubes also offers a buildable knowledge base, allowing team members to share information and questions in one location. Users can attach conversations to documents and make sure the relevant documents are associated with a project. Pricing is based on the number of users per month. Telephone and live chat support are offered.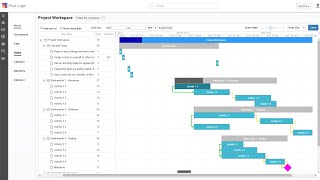 Glasscubes non dispone di un piano gratuito ma offre una versione di prova gratuita. La versione a pagamento di Glasscubes è disponibile a partire da 4,00 £/mese.
Prezzo di partenza:
4,00 £/mese
Valutazione della caratteristica
Settore: Marketing e pubblicità
Dimensioni dell'azienda: 11-50 dipendenti
Uso

Ogni giorno

per

1-5 mesi

Fonte della recensione
Rapporto qualità-prezzo
5
---
Data della recensione: 17/8/2018
Glasscubes Intranet/CRM - What a find
Our experience with Glasscubes has been an extremely positive one since the moment I first spoke to Craig.
He conducted two online presentations, which having sold software for 18 years, I think are some of the best I have had. Clear, concise, informative, in plain english and no hard sell (just let the product do the work for him!).
The implementation and on-boarding process is both intuitive and straight forward with lots of support both from the team and from online content, which is excellent. Nothing is too much trouble for our primary contacts.
Pound for pound, Glasscubes exceeds expectation and I can only imagine will get better and better. Yes there are improvements that can be made but their 'vote for new functionality' that clients can access will enable them to prioritise and gauge what to do next.
We are a team of 13 and the overwhelming feedback has been really positive from the whole company and has made us far more collaborative, centralising all our work and creating a focal point for our company.
I very much look forward to working with Glasscubes for many years to come and if they maintain their standards, they will become a real force in this market and a natural choice for small SMEs.
Vantaggi
- Easy of use
- Breadth of Functionality
- Amazing support
- Great supporting documentation
- Cross platform and device availability
Inconvenienti
- would like to see smoother integration with MS Office suite (both on PC and Mac). I appreciate refinements to this process are ongoing. Working on a Mac, it this is slightly clunky but really not a deal breaker in anyway.
Risposta di

Glasscubes

Hi Nick,

Thank you for your review. Just as an update for you, we are currently developing our Microsoft Office 365 integration. We anticipate it being launched towards the end of this quarter.

Best regards,

The Glasscubes Team

Data risposta: 22/8/2018
Settore: Studi legali
Dimensioni dell'azienda: 1.001-5.000 dipendenti
Uso

Ogni giorno

per

6-12 mesi

Fonte della recensione
Rapporto qualità-prezzo
4
---
Data della recensione: 21/1/2021
Glasscubes - SharePoint Extranet Replacement
Very positive. Rollout was painless. Our migration plan worked quite well. Glasscubes Support has been very responsive helping us with anything that has come up.
Vantaggi
- ease of use
- ease of administration
- not browser dependent
- users had the ability to invite their clients and colleagues to their workspaces
Inconvenienti
- administration needed some fine tuning
- drag and drop feature was inconsistent (has since been corrected)
Settore: Gestione di organizzazioni non profit
Dimensioni dell'azienda: 1.001-5.000 dipendenti
Uso

Ogni giorno

per

Più di 1 anno

Fonte della recensione
Rapporto qualità-prezzo
2
---
Data della recensione: 25/5/2021
Glasscubes, Customised platform for organisation collaboration
It has a customised layout system which is professional and easy to store and locate documents, the limitations with not being able to have multiple people editing a document and inability to share a document for editing outside of the organisation means this product is weaker than when compared to google docs.
Vantaggi
The high security and protection of key documents, as well as the function that allows you to share documents with juniors or other people without giving there the ability to download or edit the original. Also the documents on Glasscubes can be uploaded in versions, so previous versions can be tracked and secured when needed.
Inconvenienti
It is very frustrating to share with other organisations who do not have the permission to access and edit the document as they are not a Glasscubes user, this makes cross-collaboration hard. Also if multiple people work on the same document- at the same time, you will get kicked out and it will become locked to the main editor, so again- not good for multi-person editing and collaboration.
Risposta di

Glasscubes

Hi Samuel,

Thank you for your review and feedback. I wanted to reach out to you to address your frustrations. It is possible to securely share information from Glasscubes with external organisations, using our 'secure share link' feature. If you need to edit and collaborate with external parties, please contact your account administrator and request that they be added to your workspace.

When editing a file Glasscubes locks that file, so that other users cannot edit it at the same time, this protects the versioning of the document. During that time the file can still be viewed online, or downloaded by other users. If you use Office 365, it is also possible to co-edit documents, in much the same way as you can with Google Docs.

All the best, the Glasscubes Team.

Data risposta: 9/6/2021
Settore: Ospedali e sistemi sanitari
Dimensioni dell'azienda: 10.000+ dipendenti
Uso

Ogni giorno

per

Più di 1 anno

Fonte della recensione
Rapporto qualità-prezzo
5
---
Data della recensione: 23/1/2019
Cheap and cheerful collaboration
Vantaggi
Ease of set-up and simple cost model. Sharing documents with suppliers is non chargeable license. Fast on boarding
Inconvenienti
Poor versioning, real basic desktop UI, poor integration with mobile platforms
Settore: Istruzione superiore
Dimensioni dell'azienda: 51-200 dipendenti
Uso

Ogni giorno

per

Più di 2 anni

Fonte della recensione
Rapporto qualità-prezzo
5
---
Data della recensione: 11/3/2021
Essential Software for Any Remote Team
My team has been using Glasscubes for 4 years now to enable us to work across multiple sites while keeping information flowing and having a central place to store our project documents. Glasscubes played a critical role in our business continuity last year when all employees had to work from home at very short notice.
The support available from Glasscubes is exceptional and the platform in constantly in development. Users are encouraged to give feedback to the development team on features which would be useful to implement, and I've personally seen some of my suggestions rolled out across the site.
It has the flexibility to suit teams and businesses of all sizes and I fully recommend Glasscubes to anybody looking for secure, cloud-based filesharing and collaboration solutions.
Vantaggi
The collaboration aspect of Glasscubes is what really makes it stand out, allowing teams to store, edit and share documents across multiple locations and organisations. It integrates perfectly with MS Office and 365 with the recently-added feature to edit online in Office 365.
Inconvenienti
Some users can find it challenging to navigate the site at first but this is very easily fixed by a short introduction and training session which we have integrated in the induction process.