Informazioni su MarketBox
MarketBox is a B2B SaaS-based product designed to boost sales and productivity for service businesses with mobile and virtual workforces. Mobile workforce? Virtual appointments? Bricks and mortar locations? MarketBox handles scheduling across all three, factoring in travel time and travel zones for employees on the go. Plus self-serve online booking for customers, payment processing, video conferencing and more. We help businesses grow and convert more leads into sales with an interface that is easy and engaging for customers to use and automation that cut down on admin headaches for you and your team.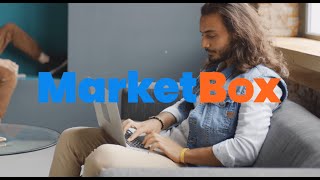 MarketBox non dispone di un piano gratuito ma offre una versione di prova gratuita. La versione a pagamento di MarketBox è disponibile a partire da 40,00 USD/mese.
Valutazione della caratteristica
Settore: Servizi ai consumatori
Dimensioni dell'azienda: 2-10 dipendenti

Ogni giorno

di utilizzo per

6-12 mesi

Fonte della recensione
Rapporto qualità-prezzo
5
---
Data della recensione: 8/3/2021
Best e-commerce option for service businesses with a travelling workforce. Customizable and...
Overall, this is a powerful and customizable booking platform while empowering our providers with proper technology to scale our business.
Vantaggi
MarketBox easily allows our instructors to set their preferred travel zones, availability, and manage their bookings whether it's online or via the mobile app. This keeps them more engaged, decreasing turnover, minimizing back and forth logistics issues with our support team, and allowing our team to focus on building customer demand/revenue.
The MarketBox team is incredibly responsive to feedback and is pushing out features at an impressive rate. It seems like every month at least one major improvement is announced that helps make our team's jobs easier.
Powerful features like self-book for clients, automated reminders to our providers, customizable services and skills, and regional pricing allow us to focus on sales and marketing, and not logistics.
Inconvenienti
The admin portal could have better UX. But what it lacks in design, it makes up for in power.
Perché scegliere MarketBox
Our internal tech team just couldn't keep up with our user's needs and we were falling behind by losing talent and customers when the user experience wasn't up to modern standards. All the while becoming increasingly expensive. Lost revenue opportunities and increased costs forced us to look for different options.
Risposta di

MarketBox

We're so glad to hear that you've been having a great experience with our MarketBox software! We're continuously adding new features so it will continue to be an even more powerful tool!

Data risposta: 12/3/2021
Charlotte S.
Charlotte S.
Settore: Consulenza manageriale
Dimensioni dell'azienda: Lavoratore autonomo

Ogni giorno

di utilizzo per

6-12 mesi

Fonte della recensione
Rapporto qualità-prezzo
5
---
Data della recensione: 1/4/2021
Marketbox - great solution for my personal training business!
Pretty happy - I have more time to take on additional clients, or not work ridiculous hours.
Vantaggi
Marketbox is a great all in one app for personal trainers and fitness professionals to easily sell services and reduce the amount of manual work associated with running a small business. When I looked to the market to see what was available to run my business, I was left with three poor options until I found MarketBox:
1) Cough up the cash for a solution that is really only aimed at a big box gym (I don't need half the functions and the fee structure doesn't make sense)
2) Spend a lot of time and money cobbling together a bunch of scheduling apps with basic booking and payment abilities
3) Do it on the cheap, and with lack of a technology option, use sweat labour and google drive + social and hope for the best
Marketbox has clearly done its homework – and there is hope for the independent personal trainer to be able to make money and survive in this industry. FINALLY! I couldn't be more happy.
My fav things include:
1. Managing all of my business data in one location. This includes client sales, bookings, payments. I'm spending less time doing admin work.
2. Option to easily sell services at different locations; sometimes I travel to meet a client, or I train them virtually. This flexibility is key
3. MarketBox is the only system I've seen that allows me to set up travel zones and a zoom integration all at once.
4. Client self-booking - The interface is easy to use (even if you aren't a techie), and my clients love it.
Inconvenienti
Cool to have more integrations with additional apps like Fitness Pal, Apple Health, and TruCoach so I can have the complete picture of my client. But these are nice to have.
Settore: Salute, benessere e fitness
Dimensioni dell'azienda: 2-10 dipendenti

Ogni giorno

di utilizzo per

1-5 mesi

Fonte della recensione
Rapporto qualità-prezzo
5
---
Data della recensione: 11/11/2021
MarketBox learn to ride
Vantaggi
The Scheduling system saves me so much time. Automated confirmations and reminders are important for clients and employees.
Inconvenienti
I don't have any complaints. Blocking times is easy, scheduling services in different travel zones is the only service I have found that does this well.
Settore: Design
Dimensioni dell'azienda: 2-10 dipendenti

Ogni mese

di utilizzo per

1-5 mesi

Fonte della recensione
Rapporto qualità-prezzo
5
---
Data della recensione: 10/8/2021
Incredible software
very helpful for time management
Vantaggi
Very useful for managing bookings, schedules & project site visits areas through a mobile app & platform I hope to get to use the most of its features
Inconvenienti
saving my time & cash and helped to be always in time
Settore: Gestione formativa
Dimensioni dell'azienda: 51-200 dipendenti

Ogni giorno

di utilizzo per

1-5 mesi

Fonte della recensione
Rapporto qualità-prezzo
5
---
Data della recensione: 13/4/2021
Outstanding Customer Service & Easy-To-Use
10/10
Vantaggi
I like how customizable the software is so we can turn on the features that apply to our services (and turn off the ones that don't). The booking flow is so simple and quick and learning how to maneuver the admin dashboard is too! The customer service is also super speedy to attend to any questions or concerns we may have which makes the onboarding process stress-free.
Inconvenienti
Any minor roadblocks we've encountered during the onboarding process have been not only answered by customer service but incorporated into their next round of changes/updates.
Perché passare a MarketBox
The support during the onboarding process and customizable options.