Informazioni su monday.com
monday.com is an award-winning work and project management platform that helps teams of all sizes plan, prioritize, manage, and execute their work more effectively. The platform offers solutions for a wide range of use-cases such as marketing, sales, operations, IT, HR, and more. It's no-code/low-code, fully customizable, and has 200+ ready-made templates to help every type of user quickly get started. The visual and intuitive interface creates a collaborative environment where team members can assign tasks, create project plans, set dependencies and due dates, communicate in real-time, share files, and more. monday.com offers a variety of productivity features designed to simplify workflows, improve cross-team collaboration, and optimize time-and resource management. No-code automations eliminate repetitive tasks, integrations centralize every app and tool in one place, and advanced reporting helps users make data-driven decisions. Multiple view options such as Gantt charts and Kanban let teams easily navigate projects from start to finish, and visual dashboards help managers track progress, timelines, and budgets at a glance. The platform is ideal for managing everything from simple to complex projects or workflows and is equally suitable for in-house teams and remote workers. monday.com integrates with 37+ commonly used apps and tools such as Outlook, Microsoft Teams, Zoom, Excel, Gmail, Google Drive, and Dropbox. So users can easily continue working with any software they already know, within the platform. In addition to the standard platform, monday.com also offers these dedicated solutions designed to answer the needs of specific industries and use-cases: monday work management monday marketer monday sales CRM monday dev monday projects monday.com has four price plans: Basic Plan, Standard Plan, Pro Plan, and Enterprise. Support is available 24/7 through the monday.com support team, the online knowledge base, and video tutorials.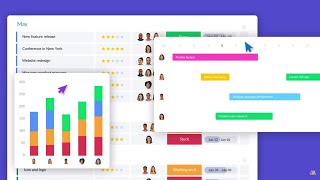 monday.com dispone di un piano gratuito e offre una versione di prova gratuita. La versione a pagamento di monday.com è disponibile a partire da 8,00 €/mese.
Valutazione della caratteristica
Settore: Sport
Dimensioni dell'azienda: 2-10 dipendenti

Ogni giorno

di utilizzo per

6-12 mesi

Fonte della recensione
Rapporto qualità-prezzo
2
---
Data della recensione: 20/11/2022
poco integrata
Vantaggi
i vantaggi a disposizione sono gli stessi dei sui competitors gestione team razzionalizzazzione del tempo niente di più.
Inconvenienti
Risulta poco integrato con altri software di terzi e questo avvolte rallenta il lavoro oltre agli eventuali altri costi per sopperire a queste mancanze.
Settore: Ricerche di mercato
Dimensioni dell'azienda: 2-10 dipendenti

Ogni settimana

di utilizzo per

1-5 mesi

Fonte della recensione
Rapporto qualità-prezzo
3
---
Data della recensione: 13/11/2022
Great Project Management and Creative Ideation Tool
Monday is a great CRM, project management and sales tool. Even though, I believe they have many features to upgrade and improve.
Vantaggi
I like Monday simple approach to create tasks and organize ideas with labels. The collaboration features are very flexible and that's something my team loves.
Inconvenienti
I believe certain aspects of the user interface are distracting, for example the strong colors highlights can confuse the focus point of the screen you're at.
Perché scegliere monday.com
Additional options I found useful on Monday
Perché passare a monday.com
Main reason to choose Monday was the fair price.
Settore: Salute mentale
Dimensioni dell'azienda: 2-10 dipendenti

Ogni giorno

di utilizzo per

Più di 2 anni

Fonte della recensione
Rapporto qualità-prezzo
5
---
Data della recensione: 16/11/2022
Great for nonprofit start ups
Monday has allowed us to cost effectively scale our services to meet the demand of our Warriors in need of mental health services.
Vantaggi
The flexibility to build a customized product that fits our needs. Monday allows us to create automations that help communicate and roster clients into services.
Inconvenienti
The user interface can get a bit burdensome to make all the automations work.
Perché scegliere monday.com
We needed automation to organize and communicate with our clients and vendors.
Perché passare a monday.com
Monday.com has the flexibility we need to build out our systems while still being HIPPA compliment. This is a very rare combination but luckily, it is at a very attractive price point that allows us to scale our operations.
Settore: Tempo libero, viaggi e turismo
Dimensioni dell'azienda: 11-50 dipendenti

Ogni settimana

di utilizzo per

Più di 1 anno

Fonte della recensione
Rapporto qualità-prezzo
1
---
Data della recensione: 13/10/2022
Unreasonable Price Increases
Software is good. Human interaction and renewal pricing is terrible.
Vantaggi
The software is relatively easy to use when getting started and creating new boards.
Inconvenienti
When up for renewal the customer support/sales team is unresponsive and our previous annual billing plays no role in the renewal amount, which incurred a 70% increase in software costs with little added functionality. When we were up for renewal the sales team promised our renewal date was pushed out two weeks while we worked through the renewal with some small discounts. This was not true. We were billed the new market rate (70% increase) on the renewal date, which was caused by sales team dragging their feet and being unresponsive. We were then promised a refund and told the charge was an accident. The refund has not been processed. They've continue to be unresponsive and not live up to their commitments. Now I'm locked into the market rate for a full year. We will not renew.
Risposta di

monday

Hey there David! Thank you for taking the time to write about your experience. We are so sorry to hear your experience with our support and sales teams has not gone well at all. The unresponsiveness is absolutely frustrating and we regret that you haven't experienced more efficient communication. Please write to us again at [email protected] if you still do not see the refund in your account. We would love to get this resolved ASAP.

Data risposta: 18/11/2022
Settore: Servizi e tecnologie dell'informazione
Dimensioni dell'azienda: 2-10 dipendenti

Ogni giorno

di utilizzo per

6-12 mesi

Fonte della recensione
Rapporto qualità-prezzo
5
---
Data della recensione: 7/9/2022
Great functionality in the Free version and worth paying for if you need a bit extra
Really great, it's been a big help for us in onboarding a new team member and making sure we all know what we are meant to be doing.
Vantaggi
The fact that it's so funcational when it's free and easy to see what you get for your money if you do pay for extras. That makes me more likely to upgrade to a paid account at times when we need it.
We love that its a really visual tool and this works for a 100% remote team running multiple complex projects. the ability to automate a lot of the processes also helps us and reduces our workload doing the silly little jobs that hold up getting into the real work!
Inconvenienti
The only thing I don't really like is the way the messages stack in the tasks and I haven't yet found a good way of having a space we can workshop in but we have other tolls for that which we can add links to so that's alright for now.