Informazioni su eXo Platform
eXo Platform is a digital workplace solution that allows businesses to connect, engage, empower, and reward teams. eXo Platform is a holistic solution that combines social, collaborative, gamification and reward features to enhance the work experience, achieve higher engagement rates and boost overall productivity. Features include enterprise social networking, collaborative spaces, document management, content publishing, calendars, task management, private or team chat, video conferencing, and a unified search function to make information from various sources easily accessible.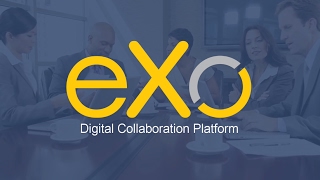 eXo Platform non dispone di un piano gratuito. La versione a pagamento di eXo Platform è disponibile a partire da 5,00 USD/mese.
Prezzo di partenza:
5,00 USD/mese
Alternative a eXo Platform
Recensioni su eXo Platform
Valutazione della caratteristica
Settore: Servizi e tecnologie dell'informazione
Fonte della recensione
Rapporto qualità-prezzo
0
---
Data della recensione: 18/12/2014
Your open source enterprise social network
This great piece of software build on top of GateIn portal will give you all GateIn features (Content Management, Single Sign-On, LDAP support, etc) and much more. Using eXo Platform we created a secure portal-based site and an intranet that encourages employees in an organization to exchange knowledge, documents, work collaboratively, task management, contact data... All done socially and mobile.
Some Features:
1. Microblogging and Activity Streams
Activity Stream displays text messages or multimedia content posted by employees , customers, suppliers. It is where you'll find all your company's activity.
2. Document Management
Take advantage of version history, rollbacks, votes, comments and more. It lets you store files in a private and secure environment, in other business systems like SharePoint, or in other cloud storage solutions, such as Google Drive or CMIS repositories.
3. Knowledge Management
Wikis, Forums, Calendar, Answers & FAQ
4.- Profile Management
It's possible to manage and organize all the contacts in your organization in a single directory, together with information on their professional profile.
5.- Groups
Create your own collaboration spaces complete with dashboards, discussion forums, wikis, calendars, and documents. Allow any user to create a collaborative space and invite other users to join with different permissions according to roles
6.- Search
eXo includes an ElasticSearch based search tool segmented according to the sections and contents in your intranet, indexing other contents published by other systems, making it a federated search tool for your organization's entire knowledge base.
7. Add-ons Marketplace
Apart from its native features, you can also integrate eXo with other business applications, productivity tools like BonitaBPM, JasperReports Server, etc.
8.- Mobile
Native iOS and Android app.
The Cons:
Vantaggi
eXo is an Enterprise Social Network that will improve productivity across the board in all members of the company. It's very feature rich so if you want your organization's knowledge, private, secure and organized then you have to try it!
Inconvenienti
We not found any except the lack of a feature found on other enterprise social networks like Yammer (gammification).
Dimensioni dell'azienda: 1.001-5.000 dipendenti
Fonte della recensione
Rapporto qualità-prezzo
0
---
Data della recensione: 16/12/2014
Everything you need for building a social network niche in on place
I have been worked on a personal project where I intend to create a niche of social network. I looked for frameworks available on the market that could provide a complete infrastructure to run out my business and I found it at eXo.
EXO plataform provides all basic features for developing a niche of social network, such as authentication, active streams and others features you can imagine for a social network.
Particulary, one of the reasons I have decided by using of eXo is because it is written in Java, basically ( JSP - you can extend to JSF, Juzu ...) and works over portlets, i.e., you can built modules and apply them over your portal.
If you are looking for a framework for build a social network I strongly recomends you at least do a trial with eXo before going deep into your project.
Vantaggi
- Documentation;
- Active community, I've got answers for all questions I've done at eXo forum;
- Customizable portal;
- You don't need touch any line of code to launch a social network;
Inconvenienti
- Server is too slow during start up, I believe that is due to the amount the packages that it have to load;
- No so flexible for extracting data from database. EXO uses JCR (Java Common Repository), i.e., you will need to use an API to extract data
Risposta di

eXo Platform

Thank you for the detailed review! Your feedback is very much appreciated. Let us know on eXo Community when you project is live and make sure to connect with us if you have further questions but it looks like you are already an active forum user :)

Data risposta: 17/12/2014
Rapporto qualità-prezzo
0
---
Data della recensione: 5/9/2016
not an open source platform as advertise in the search engine.
Your product is very good but no download option for open source platform as result in the google search engine.
Settore: Servizi e tecnologie dell'informazione
Dimensioni dell'azienda: 10.000+ dipendenti
Uso

Altro

per

6-12 mesi

Fonte della recensione
Rapporto qualità-prezzo
4
---
Data della recensione: 2/8/2018
Marvelous software for all sorts of Collaboration.
Vantaggi
Exo Platform is an outstanding software that provides an excellent platform for collaborating for our projects. It consists of powerful and effective tool that helps a lot in our business. It comprises of perfect features and functionality is fantastic. This software gives best solutions for communication problems and provides good opportunity for easier and effective cooperation among the co-workers.
Inconvenienti
In the beginning, when we start working on Exo Platform, it service is quite slow. Another issue is that when one wants to extract data from data base, it is not that much flexible. In order to start video conference, it takes long time to understand the issues.
Dimensioni dell'azienda: 11-50 dipendenti
Fonte della recensione
Rapporto qualità-prezzo
0
---
Data della recensione: 21/1/2015
eXo Platform - Suites for Social Collaboration,Crowd and intranet based application
eXo platform provides features that match requirement of social collaboration,intranet and cloud base application.I am working on eXo platform (1+ year) it is easy for portal customization functionality. It is easy for admin to define users with roles,permission and group management.
Vantaggi
eXo platform provides features like calender for defining tasks,events and meetings with reminder functionality, chat application with video confrencing, Blog engine for writing blogs and sharing information, WebDAV support for sharing of documents.
Inconvenienti
In Older version of eXo platform some time it distorts UI and UX but after releasing new eXo platform 4.1 version they are fixed and lots of new functionality added.
Risposta di

eXo Platform

Glad we could fix your issues with the new version. Thanks!

Data risposta: 28/1/2015